Today, online bidding websites have achieved huge popularity. Buyers and seller can buy or sell products and services through bidding sites as per their industry. Do you know that you have only 3 seconds to attract attention visitors before they click to another website? This is a true fact, and that is why outshine solutions specializes in making custom designed websites for the Auction business.
Our highly dedicated team has created a broad range of auction portal development services as well as has built lots of custom and unique features, which allow our clients to be noticeable in the competition.
TO ARRANGE A FREE DEMO OF OUR AUCTION WEBSITE DEVELOPMENT PLEASE SUBMIT YOUR DEMO REQUEST NOW !!
Our Auction Portal Development services:  We are a professional auction portal development company and providing outstanding services for online auction & bidding website development. Some of our key services include: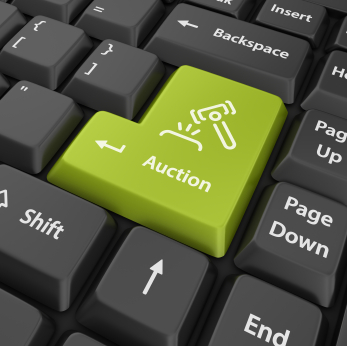 Auction Portal Design & Development
Bidding Portal Development
Custom Action Portal Development
Penny Auction Portal Development
General Auction Portal Development
Auction and Bidding Website Development
Auction Management System
Existing Auction Portal Enhancement
Live / Virtual Auction Portal Development
Auction Portal Maintenance
We are just matchless, particularly when it comes to the technical features of an auction website. Our team consists of experienced, skilled and talented web developers who are very much aware of the latest technology and portal trends, and working with technologies like JavaScript, AJAX, PHP, Cakephp, Python, Word Press and lots more.
We are able to provide you a unique selling community for your sector, where buyers and sellers have a single marketplace to do transactions. Besides, we can help you to increase your ROI (return on investment) as have developed numerous successful auction websites.
Online Auction Software Features: We enable our clients to keep track of many auction parameters, including how many bids have been gotten for a product or who offered the highest bid. Remember, you can end bidding for an item and start again that as well.
Some of the leading auction software features are as follows:
Auction Interface:
Listing Items (set or percentage based)
Highlighted Auctions
Bold Auctions
Home Page Featured Auctions
Category Featured Auctions
Reserve Auction fee
Buy it now fee
Second Category fee
Make an offer fee
Advanced search facility enables for items by:
Keywords (item title and description)
Items with reserve price
Items listed with buy it now
Items with swap enabled
By country/zip code
By seller
By buyer
By store
Extra features of our Auction website portal :
Users can leave feedback for each other with Facebook account
User help and F-A-Q text already built into the system
Sellers can accept Buy It Now offers.
Buyers can now make offers on listed items.
Users can select if they want to receive your web-sites newsletter.
Potential bidders can ask the seller a question directly.
Listing features:
Easy category selection
Users with a store can select whether to list their new item in their store, auction only or both (available if seller has an active store)
Sellers can enter their own item title
Sellers can enter their selection for any custom fields.
Users can open their own eBay type stores, upload their company logo and display all their open auctions
Start your online auction business with our exceptional online auction portal designing services, which are available at cost effective prices.