A one and half decade ago, there was no app store and mobile applications (apps) were just an imagination. But things have changed dramatically after smartphones and iPhones came into actuality. Apple started the first app store for its iOS platform in July 2008 and Google's app store (now Google Play) introduced for the Android platform in March 11, 2015. After that, app developers and app development grown across the globe. This is the reason that there are more than 2.4 million apps out there right now.
As such the greatest challenge faced by developers and businesses is to get their app noticed and this is where app store optimization (ASO) come in existence.
Why You Need App Store Optimization
1. It will bring organic downloads
2. Reach to Targeted Audience
3. Less costly & Less time consuming
We here at Outshine Solutions, use powerful and effective marketing tactic to boost your application visibility and increase download numbers. Our app store optimization services will help you to get your mobile app discovered by your target audience faster than ever.
How App Store Optimization Service Works ?:
Optimizing App Title: Your app title tells the users what your app does, and if they can't tell what your app does by reading your title, they will move on. So, we outline a title that is catchy, descriptive and explains the purpose your app is meant for.
Relevant App Description: After title gets done, we work on an app's description and produce a short, meaningful and compact description that ensures your mobile app's individuality and charm
App Keywords: We pick the best keywords that are well-suited for the target audience by using proprietary data from inside the App Store. Avoid keywords that are too long.
Designing App Screen Shots: We will convey your app's functionality clearly while highlighting all the eye-catching parts of your app. Use up all space for screenshots with different pictures.
Deciding Icon: Represents your first impression, so we create an icon/logo that's compelling, expressive, unique, well-designed and meaningful.
App YouTube Video: To provide your mobile app more exposure, we create a video that shows what your app does. We focus on your app's function mainly and keep it to the point rather than making it overly long.
App Reviews & Ratings: Many app users are influenced by reviews and ratings, so we use the social media accounts like Facebook, Twitter, Google Plus, etc, for your app to ask for reviews. We help your app go up in app search with positive user reviews and high ratings.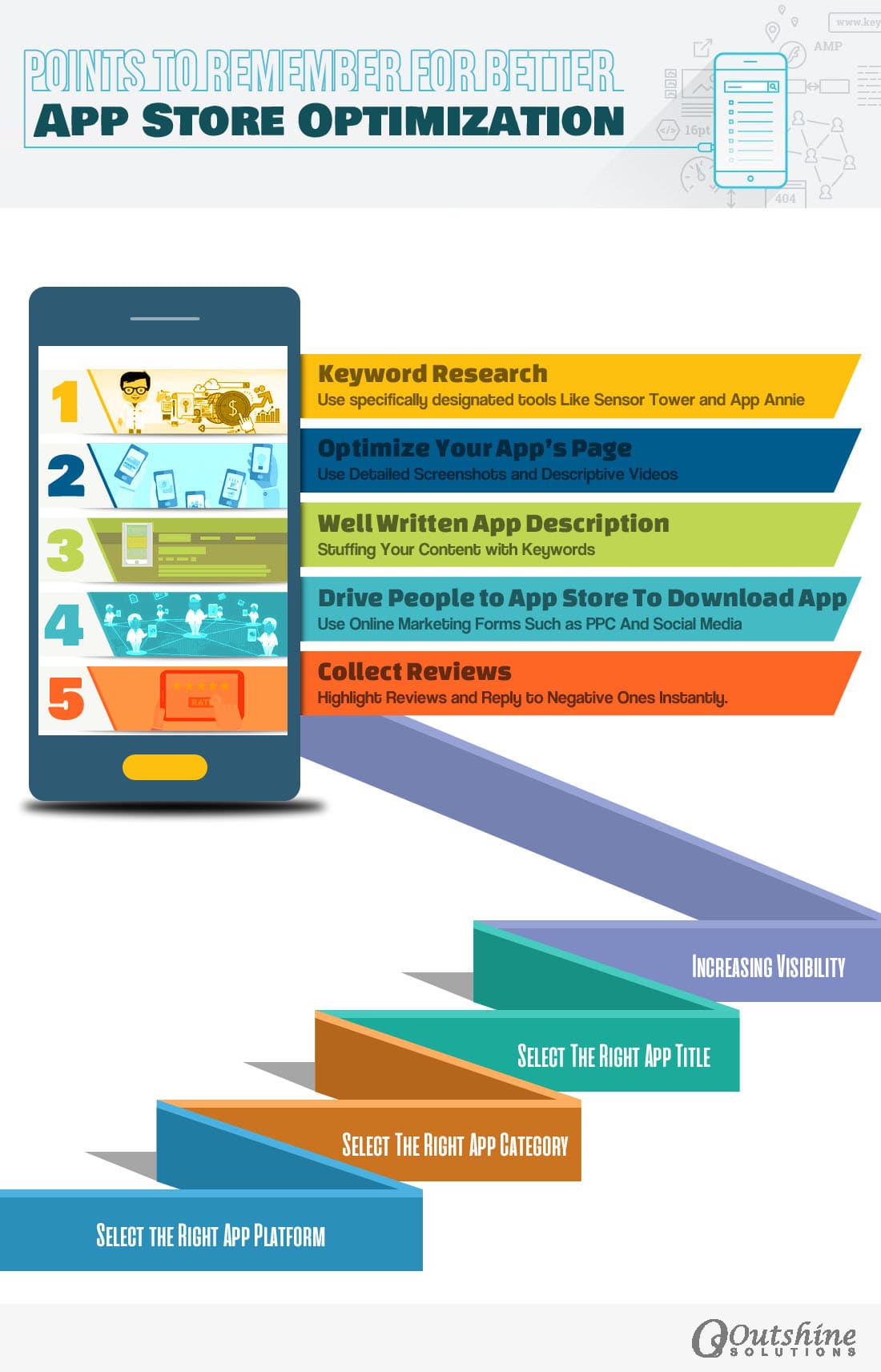 Why You Should Consider Outshine
We, at Outshine Solutions, are providing affordable App Store Optimization (ASO) Services to all kind of Businesses across the globe. We are very flexible with our ASO prices and have different App Store Optimization Packages. Our main goal is to provide dedicated quality assurance and great customer experience for our valued clients and solve their issues quickly. Our ASO Experts are experienced, professional and know the ins & outs of ASO and dedicated with their work according to developer program policies.
Like our SEO services, our ASO services are focused on purely white hat practices too.