A landing Page is generally defined as "It is a web page particularly designed to promote or sell a product and service where you send visitors after they've clicked". Usually, a landing page is a link the user can click from an immediate marketing like e-mail campaign, ads and organic result for getting relevant, useful and original information with transparency and trustworthiness. It is the extension of online and offline direct response advertising of a business, and the sole purpose is to get outlooks to take a specific action like request additional information, make a purchase. Usability is all about user's behavior or reactions after they arrive on the site. The prime aim of it is to increase the conversion rate with effective design. Our recent blog cover tip for successful Web Design for improving visitors' usability of the website In this post, we have mentioned top five rules that can strengthen your landing pages.
Function Elements
You need to make your landing pages functional, clean and well-dressed. Updated with the latest design is extremely important so make sure that you are not behind the times. Remember, visitors is not going to trust if your site does not stand on their vision, first you need to be profitable for them by providing great user experience. Remember, no matter how quality products you offer, if you don't make it simple and easy for buyers to navigate. Some other important points that you must remember are:
Visitors do not like all the content on a landing page. They scan the text and take away only a few elements that they use for making a purchasing decision, if the landing page is related to their aim or not. So, clean use of space enables them to scan and take away key messages.
If the landing page includes your site's navigation bar, users are likely to begin browsing the website. When it occurred, they lose interest in the offer so do not use website navigation.
Add an email at the bottom of your first page use an email capture field with an excellent incentive to sign up. If visitors don't want to buy your products, this will allow you to continue advertising and marketing to them.
If any visitor does not want to sign up on your landing page, give them an alternative option. Remember, Remember, the sign up form should be shorter and better.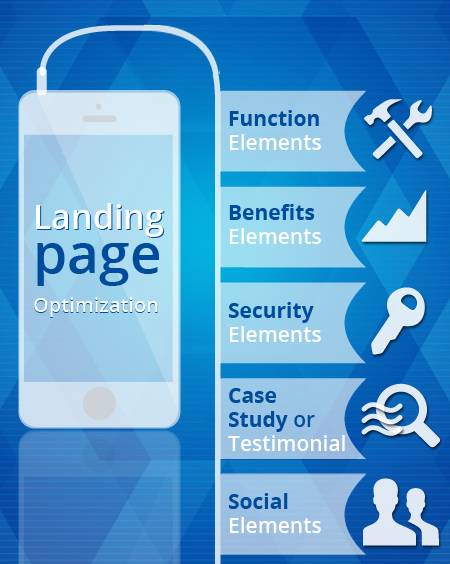 Benefits Elements
One of the quick and the best way to directly influence your research projects, future sales, business campaigns and customer service is "Logging user information".
By filling out quick info forms, you can analyze the data to find factors about your targeted audience like social and demographics.
Another benefit is expectation for new products as well as startups can be promoted with a "Coming Soon Page" style landing page.
You can also measure advertising efforts efficiently with watchfully planned landing pages.
By using various tools such as Google Analytics, built-in Word Press plugins, or Adsense, you can track the potency of your campaigns.
We can create several landing pages with the help of A/B testing and track which landing page performing the best. The prime objective of the A/B testing is to experiment with unique content to increase conversions. A few of the examples are different copywriting styles, switching buttons, increasing call to action and varied actions.
 Security Elements
Most of the buyers are careful regarding purchasing things online, especially when you are not a well known brand. But, you can reassure visitors that you are providing world class products by adding trust or security elements to your landing page. It will boost your site's conversion rates. Security elements include validation indicators, SSL certified transaction pages, secure check out notifies, etc. You must have a professional looking appearance; however the design of a page or site is a vital trust factor. Remember, a simple rounded button isn't necessarily the best CTA (call to action). Include an image or photo of your business logo or product within your CTA can increase your conversions considerably.
Case Study or Testimonial
You need to provide some kind of proof so as to back up your claims so case studies and testimonials are the excellent ways to tell visitors that your statements are 100% true. Use testimonial from satisfied customers because they build visitor confidence in your products and services. Do not forget to include your customer's full name with a photo in testimonials. A video testimonial is more helpful to convert visitors into your customers higher than a plain text. Reviews or Case studies really work, but do not use false ones. If you create up over enthusiastic or excited statements, maybe your business or products will look unauthentic or unreliable. There is a blog that proves how 79% of consumers trust on online reviews. Therefore, wait for great testimonials that can help you in making people trust. A high volume of customers can provide prospects believe or confidence in a product or service.
Social Elements
Social shares are more valuable than ever due to Google's hummingbird update earlier. Google+1 is now ranked as the most important as link building. Businesses that are basing their landing page around a resource, for example, a white paper and eBook, that content is highly shareable. You can support social engagement just by promoting or advertising your landing page on social sites such as Facebook, Google+ and Twitter. You need to throw up some social share buttons at the top or along the side of your landing page because they will enable your outlooks to evangelize your offers and content. Besides, don't forget to add an email forwarding option as well as because some of the visitors have different sharing preferences.
Conclusion:
Landing pages influence conversion and lead generation greatly. If you're trying to improve the landing page experience, try the general guidelines above to help you think of ways to improve the landing page experience and better performance.